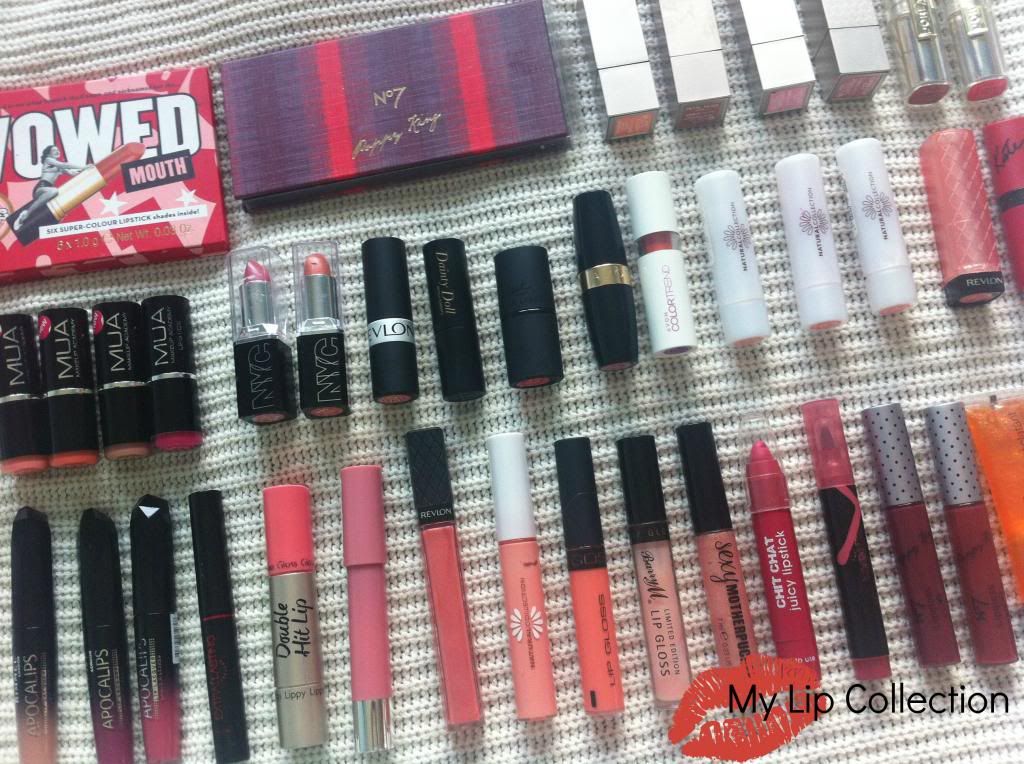 I've been wanting to start this series for a while now, but I have a tendency to be very disorganised so gathering my collection has been a task in itself! Finally I had a little spare time over Easter to locate the majority of my collection (It's an exciting life, I know) and today I figured I'd start my make up collection series off with which is probably my favourite make up item of the moment lipstick/gloss. Because I do have a lot of them I've attempted to break the shades down by colour (Pinks, Nudes, Oranges, Reds and Purples) although many of the shades could overlap into more than one section for example a pinky nude so I've just picked the section which I felt was more appropriate for the shade.
Clearly I love a good pink shade! To my surprise I've actually reviewed pretty much all of the above, as normal just click the product name to read the review (Warning some of these reviews are very old so try not to laugh!). My favourites here are definitely the Lasting finish lipstick by Rimmel, the Revlon balm stain and their lipgloss. The brightest pink shade I own is Look's Babydoll which is actually quite pretty - I think I'll be digging it out this summer (if we ever get one!)
Nude lips are my go to when I'm stuck for ideas, I just think they look so elegant and are perfect at completing most make up looks! If you're starting out with nude shades and don't want to waste too much money I'd recommend MUA's bare - At just a pound its wonderful to see how these sort of shades work for you. Alternatively Natural collection also offer a who range of sheer shades at £1.99 (Which are normally on 3 for 2) I'm also a massive fan of both my look beauty nudes which both look so lovely on the lips!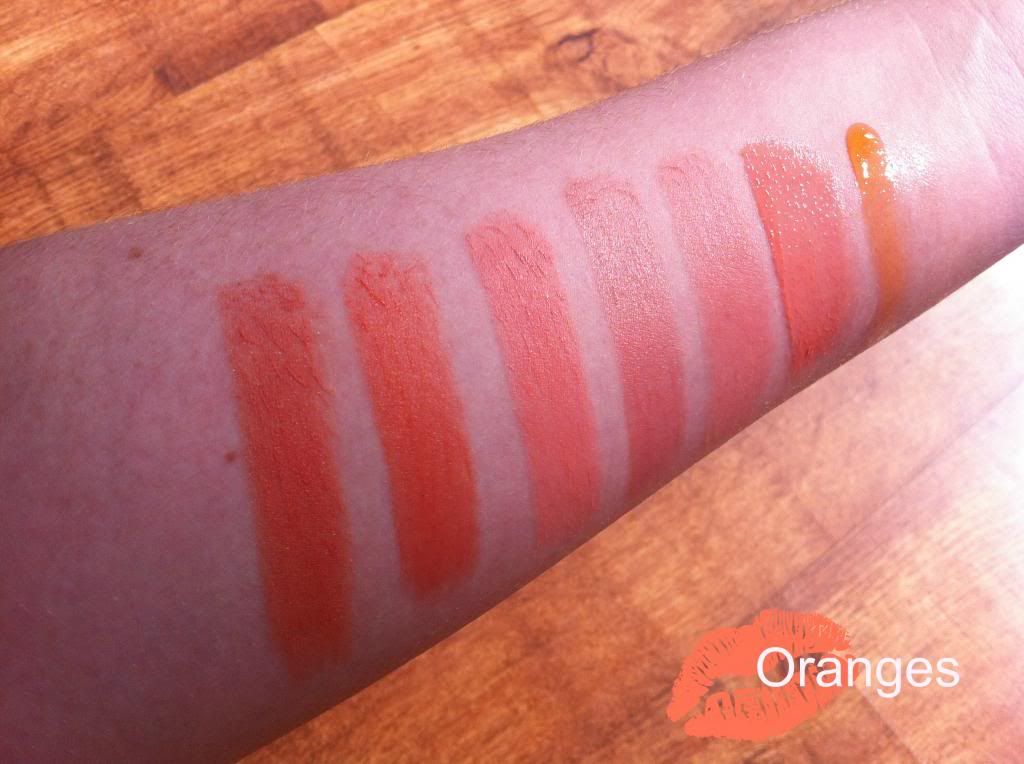 I'll be the first to admit orange/peach lipsticks really don't suit me, but apparently I'm desperate to make them work judging by the amount I own! I think the most wearable shades here are the Gosh lipgloss and Look lipstick. Somehow in the swatching process I left out
MUA's Nectar
although its very similar to Colortrend's Flirt in colour (only cheaper!)
I don't have many reds, So I decided to talk about all the red/berry shades in one go. I love Sleek's Stiletto which I got in Decembers Glossybox although it looks way too messy on me (I need to buy a lipliner and brush before I even think of wearing it!) Meanwhile Pink peach and Aphrodite Scarlet are safer more subtle reds for the less daring of us. Finally Shade 3 and Damson aren't so much red shades, but still very bold for someone who likes to play it quite safe with lips like myself..
Despite loving a nude lip, for me nothing beats a lipstick with a purple tone to it and I just love these sorts of shades against my pale skin! Again quite a few berry shades here, although these happen to be my favourite! I also love both the No7 lipglosses although these were both in a Christmas gift and sadly have no shade names.

So there you have it my whole lip collection! Do you own any of these shades?!