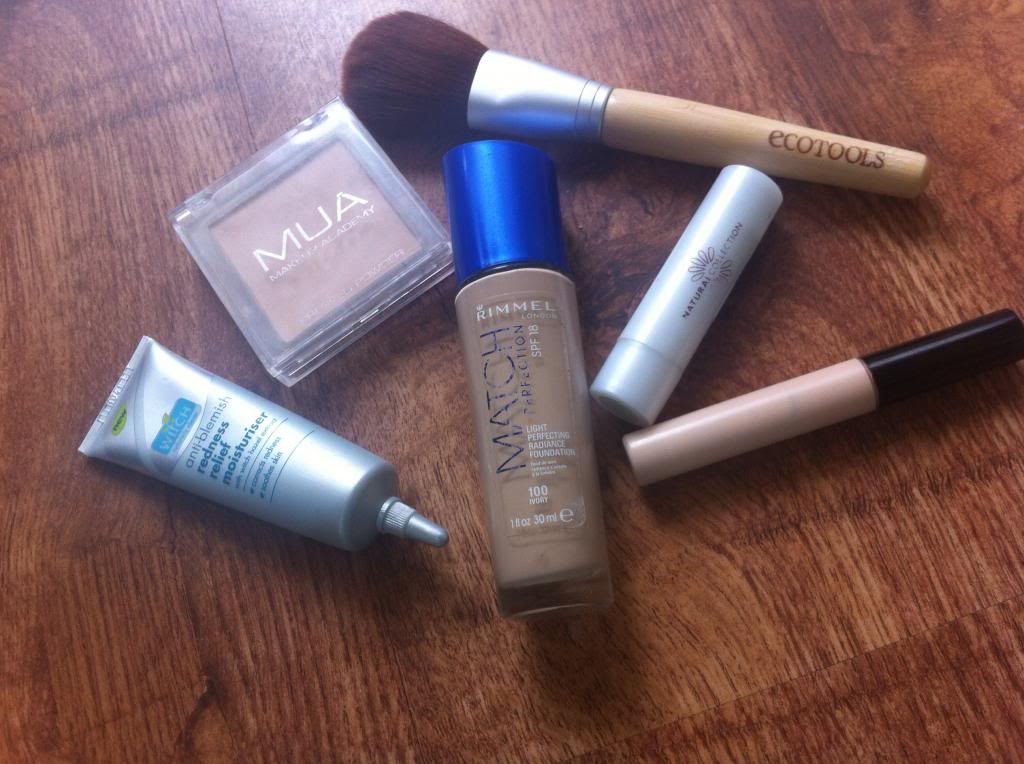 When faced with the problem of redness I know so many people who will just slap the foundation on, while this seems like quite a logical idea a lot of the time the redness still peeps through. Personally I hate foundations with a high coverage anyway, so when faced with this problem myself last week I developed a routine for combating the redness on my face without caking the make up on and thought Id sure if with you guys who may be suffering from similar problems.
Firstly I prep my skin with
Witch's anti-blemish redness relief moisturiser
, any primer will do the trick although I find using a green moisturiser just automatically helps get rid of some of the redness and just gives a great base. Next I make a grab for
Natural Collections Green Concealer
which I think is fantastic! I hate that green concealers aren't really marketed that well as they're a complete lifesaver for me. Everytime I recommend this to a friend they look at me oddly for a while before repeating the word green to me like I'm mad, but everyone of those friends I've told to get this has been left amazed! This concealer just helps get rid of any excess redness on the skin before using a foundation, My current one is
Rimmels Match perfection
which is a little dark for me but blends like a dream. Next I take my
Collection concealer
which I will tap into any blemishes still peeping through the foundation, I find this is the most effective method of applying this concealer to target areas and like my foundation it blends into my skin really well. Lastly I find that setting all of that work just really helps the make up to stay in place for longer - Im currently using
MUA's pressed powder
with my ecotools brush which does the job really well.
Bottom-Top: Witch anti-blemish redness relief mosituriser, Natural Collection Green concealer, Rimmel Match perfection in Ivory, Collection lasting perfection concealer in fair and MUA pressed powder in shade one.

I'd love to hear how you guys deal with redness and if you have any tips or tricks! Personally I cant stress the importance of a green concealer enough, I found mine for just £1.99 in Boots.