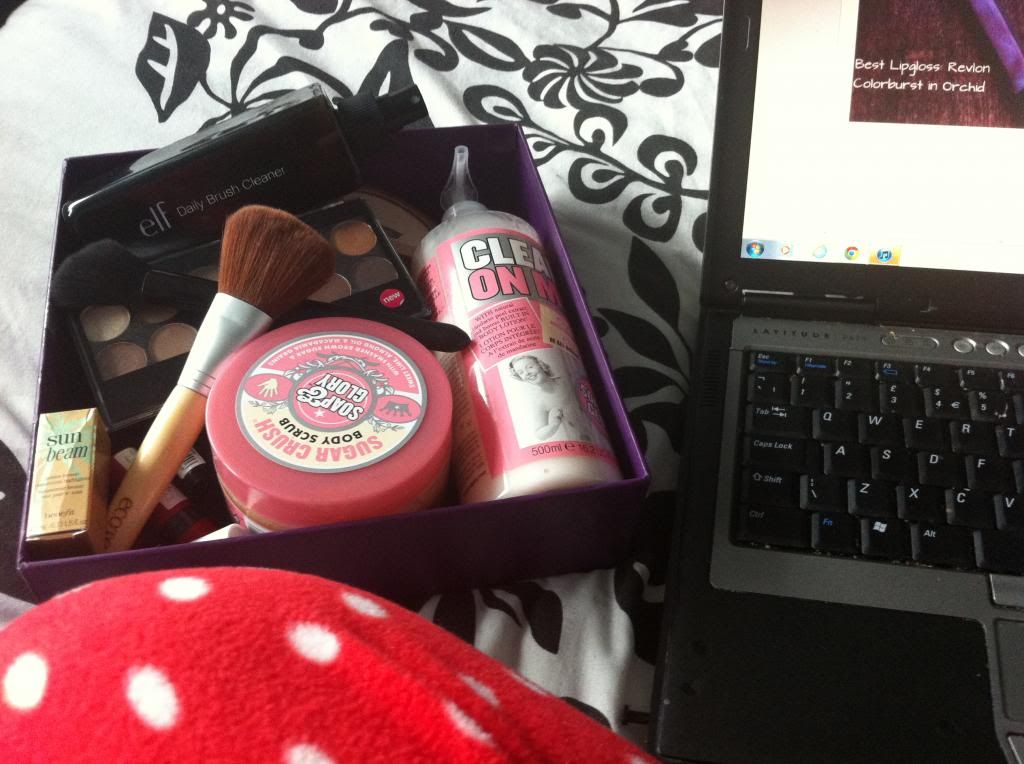 Why did you start blogging and how long have you been blogging for?
Before prom my prom in 2011 I was looking around for reviews since I had no idea what I wanted to wear make up wise, I never left the world of beauty blogging and started 'Beauty on a Budget' that August.
Whose blog did you fall in love with first?
I
don't
really remember since I was just browsing at the time, although I know one of the first blogs that really stuck out to me was The Sunday Girl - I still admire the way she shoots her blog pictures.
What was the first blogosphere hyped about product you bought and was it worth the hype?
The Revlon Lip Butters and controversially no, I just
didn't
get along with them at all!
What are your favourite five things about blogging and being a beauty blogger?
1)The other bloggers are
probably
my favourite thing about blogging. It's like you automatically have a huge support network of friends ready to help you if you need it, I know if I ever had a problem they'd always be someone there whether it be through #bbloggers or just sending a simple email.
2)The opportunities that come from being a blogger are pretty amazing no matter how big or small they may be.
3)I also love the skills set blogging has given me, Before I started this I had no idea how to take a half descent picture or place a bit of html. Now I just feel so much more confident in the blogging community knowing that I know a thing or two about the internet.
4) I love being able to write about the things I love everyday and even hear your opinions on it too.
5) Finally I love that bloggers always keep each other in the know sharing amazing discounts and deals with one another - I'm on a budget you know!
What have you learnt from being a beauty blogger?
I'm not alone in owning a silly amount of make up! But on a serious note, as mentioned before this whole experience has been a huge learning curve and I have gained so many new skills.
Have you changed anything since being a beauty blogger?
I own so much more make up, but I think being in the know with new
releases
has done that to me! Before I'd just wonder into Boots and see if anything had changed..
What advice would you give to a beauty blogger just starting out?
The same advise I gave one of my closest friends - Just go for it! No one expects you to have perfect posts overnight, Its all about finding your feet.
Name your top five brands!
It took me ages to narrow down just five! But in the end I went with MUA for their amazingy priced goodies. Rimmel because I love their lipsticks and eyeliners - My current foundation is also from them! Look Beauty for their amazing packaging which really competes with higher end brands. Maybelline who offer an amazing mascaras, and Soap and Glory who are just amazing all round. I don't know what I'd do without their body products!
Recommend your top five favourite beauty products!
Rimmel's Kate Lipstick,
Maybelline's Dream Fresh BB cream,
Collection 2000 lasting perfection concealer,
MUA's eye primer and
The Body Shop's Coconut Body Butter.
Tag other beauty bloggers to do this tag!
And anyone else that hasn't already!