I think by now most you guys will have noticed that I love a good bargain , so ever since my friend told me about the Boots Clearance store based in Beckton I've been begging her to take me. Last night we finally made the trip and I thought you guys may be interested in what I brought while I was there. What surprises me most about this place is that I've only ever seen
this one post
on it - I don't know if that's because its too out of the way for most people or that people are just unaware of it, but I think it's something everyone should have in their city because its amazing!
They seemed to have loads of these
Coconut & hibiscus scrub's
and since I love everything that it coconut I had to pick one up! At just £2 for a great 400ml of product I thought this was great, although I could only find it online on the US Boots website where it retailed at $9.99. Next up I found a couple of Soap and Glory bits in the form of
Slimwear
and
Return to Slender Body Contouring Gel
, I don't really buy in to these types of products but when you see S&G for just a pound each you make a run for the tills with no questions asked. Lastly for body products I found this
Sanctuary Body Milk Spray
for just £1 (spot a theme here yet?!) I hear a lot about this brand but have never really put there products to the test so I look forward to doing so.
Again Umberto Giannini is one of those brands I've heard about but have never tried for myself so I couldn't resist picking up the
Umberto Giannini overnight magic hair repair
for just £1, I've only been using it a night but I love the idea behind it and the 'no rinse' remedy - Perfect for me as I prefer to wash my hair of an evening rather than waking up earlier in the morning. These
Boots Expert heat protection intensive conditioner's
were 2 for £1, I'm passing one on to my mum but look forward to trying it since my hair suffers so much heat damage!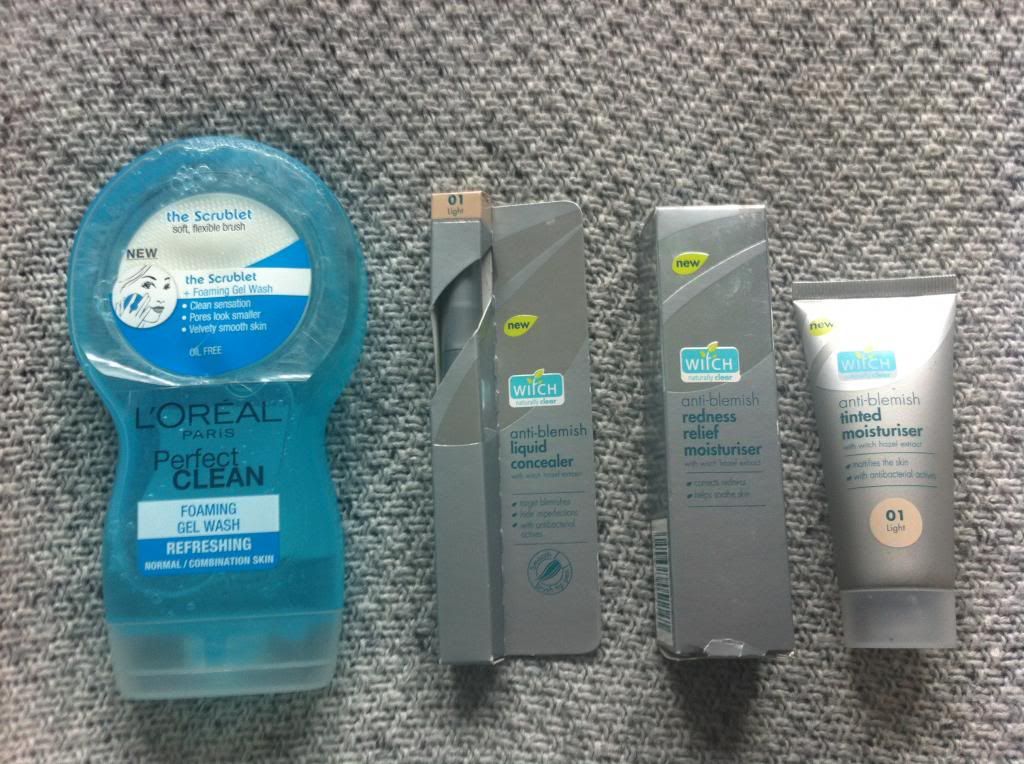 This
Loreal Perfect clean Foaming gel wash
normally retails for around £5 so I was happy to see it for just £1 as I love the idea behind it - I got to try it out last night and really liked it. Down the same isle of random products I found the
Witch Anit-blemish redness relief moisturiser, liquid concealer and tinted moisturiser
all for £1.00 each - I love this line from Witch so was so happy to see it, although I really hope this doesn't mean Boots is stopping to stock it.
I'm a big fan of Neutrogena so was happy to see their
Norwegian formula intense repair lip balm
for £1, The
Vaseline
was a bit of an impulse buy at the till but how could I turn down something limited edition that I wanted to try for just 50p?! I didnt find too much in the make up section since most if it involved bright shades of blue, purple and even green we did however find this
No7 Eyeshadow in innocence
for of course just a £1 and this lovely
17 Blush
for just 75p. Saving the best till last I stumbled across this
Japonesque Angled Foundation Brush
for just £3.50, amazing considering it retails at £17.50 normally and I've been wanting to try an angled foundation brush for some time now.
So there you have it, a little rumaging at £17.75 later there are all the amazing products I found at the Boots Clearence store. I'd reccomend stoping by if you're in the area - I found a link with all the details
here