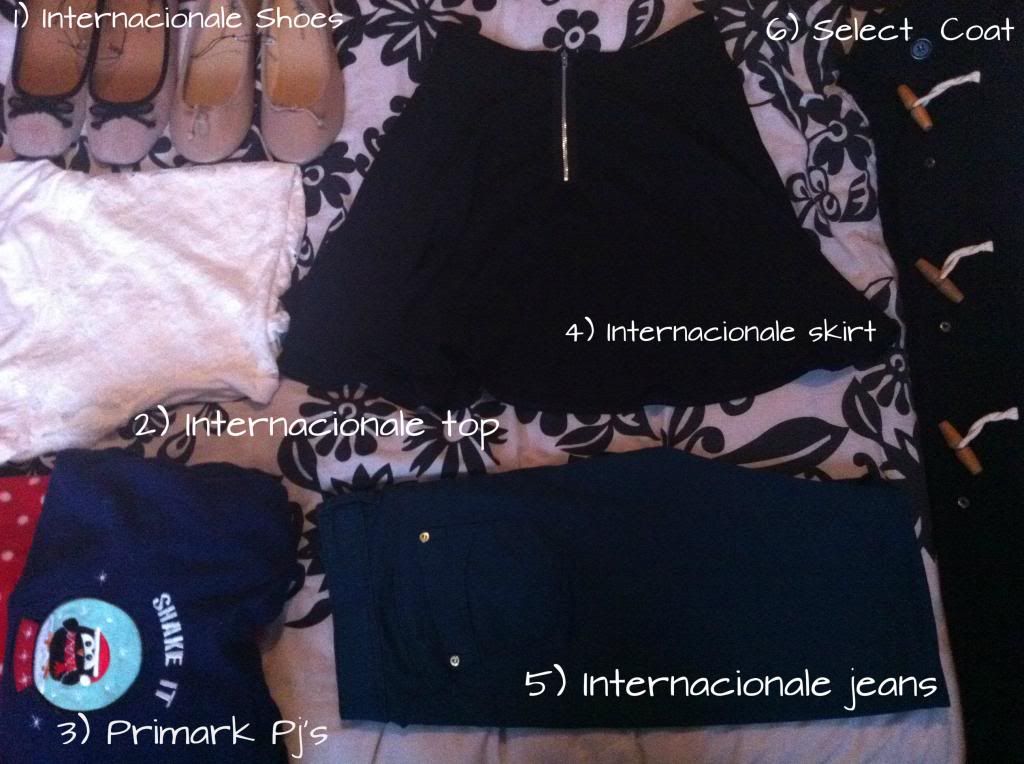 Nude square Tow ballerinas £9.99 £2 / Nude bow Ballerinas £7.99 £2 / Cream lace back top £12.99 £5 / Shake it PJ's £7.00 £4 / Black skater skirt £14.99 / Teal Shaper Skinny Jeans £21.99 £12 / Navy double checked lined duffle coat £50 £30
Yes I know...another haul post! But in my defense I haven't posted one since last year ;) Shockingly, above this is some clothing, which is rare for me considering 60% of my my money goes on beauty, and the other 40% on food. The plan was to link you to some better quality shock images, but since pretty much everything above was in the sale I can no longer find any.. so I guess your have to imagine how lovely everything looks because since taking this original photo a few days ago it's all in the wash/lost in my disaster of a wardrobe.
On Christmas Eve Internationale sent out an email with some of their sale offers including £2 flats which automatically had my browsing around the website, of course I had to pick up two pairs as they were such a bargain price. I also added lovely lacey top, along with a pair of jeans jeans and a skirt for New Years Eve to my basket. I'd been on the search for a coat for such a long time, so when I saw this one for just £30 I ran straight to the tills, sadly I cant find it anywhere online but you can build an idea of it from the above picture. When I saw these Pj's for just £4 in Primark I had to pick them up, they're just so cute and really warm too which is always lovely.


Toni & Guy Gift for blondes £12 £6 / Katy Perry Sweetie pie lashes £6.50 £4 / Strawberry hand cleanse gel £3 £1.50 / Taylor Swift wonderstruck set £20 £13.33 / Clarie's highlighter compact £3 / Cinnamon buns candle £1 / Clarie's mirror £4 / Clarie's lime lip balm £3 £1/ Tree tea night lotion £9 £5.40 / Tea Tree skin clearing lotion £8 £4.80 / Japanese Cherry Blossom Eau De Toilette £15 £9


After buying and trying the Tony & Guy set the other day I had to pick up another while in Boots - The products left my hair feeling amazing so expect reviews soon! I also picked up Taylor Swift's Wonderstuck which comes with a lovely little mini and body lotion! While we're on the subject of Boots - I was given a No7 voucher so I figured I'd kill two birds with one stone in telling you, they're back..Although I'm still annoyed you can only get £3 off of make up now! I also had a Clarie's gift card and headed straight to the beauty section picking up these Katy Perry lashes, a lovely highlighter, mirror and a cute lip balm all for just £12. I'm loving candles right now and my little sister had given my Mum this Cinnamon buns candle as part of her Christmas present. I loved the smell of it so gave her the money to pick me one up too, I cant wait to burn it! Lastly When I saw that The Body Shop Website had at least 40% off everything and free delivery with a £20 spend I automatically made an order. I've been wanting to try some bits from the Tea Tree range for a while now so figured I'd pick them up while they were going cheap, I also added the perfume to my basket as I loved the sound of it and haven't had much luck in the perfume sales this year - Luckily I love the smell of it and think its such a steal at just £9 for 50ml! Lastly I added some hand cleanse gel to get my total over £20.
Beauty wise, I think I've spent enough for a while although today I'm allowing myself to spend £10 in Boots since a couple of bits I've wanted for a while have money off and it would silly to pass them up. My lovely friend also picked me this
Topshop
Duo in the sales and my Mum has promised me some new make up brushes as part of my Christmas present..Other than that I'm totally on a spending ban.. Promise! Well until something I 'need' comes along. Have you guys made any good sale buys?